Introductory Series Pearls of Wisdom® by El Morya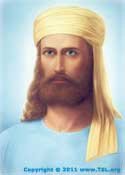 Free introductory series of electronic Pearls of Wisdom® (ePearls) by the ascended master El Morya. In each ePearl, El Morya introduces you to the ascended masters and the seven chohans of the rays, gives meditations for communing with the seven archangels, but most importantly, how to see yourself as God sees you.
"Morya summons chelas of the sacred fire who would become adepts, followers who would become friends of Christ, exponents of the word of living truth, imitators of the master, and finally the heart, head and hand of our cosmic retinue."
Gain spiritual insights to help you meet the challenges of life!