Mark Prophet, The Summit Lighthouse Founder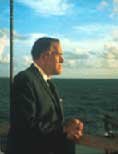 Mark L. Prophet, founder of The Summit Lighthouse, and his wife, Elizabeth Clare Prophet, were pioneers of modern spirituality and internationally renowned authors of spiritual books.
Mark Prophet founded The Summit Lighthouse in 1958 under the direction of the Ascended Master El Morya.
The Prophets advanced techniques in practical spirituality, including the creative power of sound - the Science of the Spoken Word - for personal growth and world transformation.
Summit Lighthouse seminars and workshops are conducted throughout the United States and around the world on the Teachings of the Ascended Masters on topics such as the Divine Self and Holy Christ Self, karma and reincarnation, prophecy, soul mates and twin flames, mysticism and angels.
Mark Prophet wrote and published many books and audio recordings explaining the Teachings of the Ascended Masters. Translated into more than 30 languages, the spiritual books by Mark and Elizabeth Clare Prophet are original classics that define esoteric literature for the new millennium. These include several best-selling spiritual titles, such as Saint Germain on Alchemy, The Human Aura by Kuthumi and Djwal Kul, and Ashram Notes.
Mark passed on in 1973 and Elizabeth carried on their work until her retirement in 1999. Her lectures and workshops have been broadcast on more than 200 cable TV stations throughout the United States.
The Summit Lighthouse continues to release books, audios and DVDs on the Teachings of the Ascended Masters. For more information on the latest releases and information on conferences, seminars and events.